Kind-hearted residents of North Somerset carry out anonymous good deeds to mark the 800th anniversary of their church.
Good deeds included someone who secretly paid a neighbor's vet bill, another who gave warm clothes to a rough sleeper and youngsters who painted public benches. The kind-hearted village reached its target of 800 random favors on Christmas Day.
Other acts included helping a stranger carry their shopping to their car, driving aid to migrants in Calais, telling someone they are special and litter picking in the village.
One child wrote about how they helped their friend when they fell over and 70 gifts were collected by youngsters and given to local pensioners.
Fences were painted, hot drinks were made for tearful friends and one man said he was helped to his feet by two motorists when he fell off his bike.
One resident stated:
"So far, we have 817 acts of random kindness recorded and I am aware that there are some more to come in. The whole community have come together over the past year and blessed one another and those within communities further afield."
She added: "What is wonderful is the spirit in which all of this was taken. It wasn't about brownie points for good deeds but about love, about raising awareness of how simple acts of kindness can mean so much to someone else, even more to those you do not know.
"In a world where some people don't even know their neighbors, this initiative showed the fantastic amount of community spirit and compassion there is in Congresbury."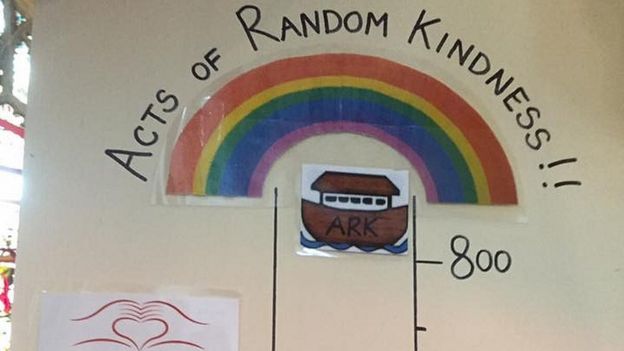 Quote of the Week, Photographer, Twitter & Facebook